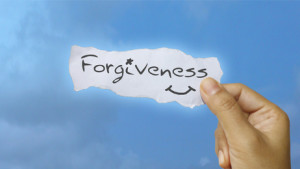 There are many ways to measure the degree to which a leader demonstrates positive character and my last blog reviewed the methodology Fred Kiel introduced in his book entitled "Return on Character".  In the book, character in leadership is based on an assessment of the presence of four universally accepted moral principles: integrity, responsibility, forgiveness and compassion.
Last time we explored responsibility.  This time we will gain insight into the importance of forgiveness as it relates to character-based leadership.  Forgiveness is a powerful characteristic to exhibit as a leader because it has the power to add tremendous strength to relationships. An important truth is that a leader's success is profoundly influenced by the strength of the relationships.
When I looked up the definition of forgiveness on Wikipedia, the description of what it means included the idea that there is a change in feelings resulting is an intentional and voluntary desire to wish an "offender" well rather than to harbor feelings of vengeance or anger.
The recent story of Minnesota Vikings kicker Blair Walsh really demonstrates the concept of forgiveness.  If you're not familiar with the story, Blair Walsh is the field-goal kicker for the Minnesota Vikings a football team that plays in the National Football League. In a recent playoff game against the Seattle Seahawks, Walsh attempted a 25 yard field goal in the last seconds of the game that would have gained them three points to win the game by a score of 12-10. Unfortunately, the kick was not successful and the Vikings lost 10-9. Despite the fact that Walsh had kicked three other field goals during the game and was responsible for all of the points that the team had scored, his failure to successfully split the uprights in the final seconds made him the focal point of blame for losing the game.  In the days that followed the game, Walsh reported that his family had received death threats because of his unintentional mistake. It seems that emotions got the better of many people. I mean, really, it's only a football game.
That's when a spirit of forgiveness entered the picture.  In contrast to all of the foolish behaviour by adults, a class of grade 1 students brought sensibility and good character to the situation.  The football game was played on Sunday, January 10, 2016. Within hours, many fans chose to express sentiments of anger and threat. However, first grade teacher Judie Offerdahl of Northpoint Elementary in Blaine, Minnesota took a different approach.  She decided to use Walsh's difficult experience as an opportunity for her students to learn about empathy.  On Tuesday, January 12 Walsh received many letters of support from a first grade class.  Here's just one example:
Dear Blair Walsh,
I know that it can be hard to get through things that are sad. But you have to try and try again. Everyone makes mistakes sometimes. One time I made a mistake when I was doing a cartwheel. I felt embarrassed. But you can still help the Vikings win the Super Bowl next year.
Your fan,   (The letter was signed by one of the grade 1 students)
Another letter from a little boy said, "Don't worry. It's just a game."
Walsh responded to the letters by visiting the class and thanking the young people for their well wishes. When all the dust had settled, it seems that something really good came out of a difficult moment and hopefully some of the people who chose to respond with anger and death threats will take a moment to reflect on the poor character attributes of which they are a role model to those around them.
One of the key concepts that individuals need to embrace in order to show forgiveness is the concept of intentions. There is an old expression that says we judge people by their actions and we wish to be judged by our intentions. When we make a mistake and someone calls us on it, the common response is "I didn't mean to". We believe that if we didn't mean to do something then we should be automatically forgiven.  This seems like a reasonable expectation.  However, we often observe someone's actions and without ever thinking about their intentions we react with a complete absence of empathy or forgiveness.  This reaction can cause the other person to disengage from the conversation and hurt the relationship.  Like I said above, forgiveness is a powerful characteristic to exhibit as a leader because it has the power to add tremendous strength to relationships. An important truth is that a leader's success is profoundly influenced by the strength of the relationships.
In his book, Return on Character, Kiel connects the principal of forgiveness to two competencies:
Cooperation
Mediation of conflict
Both of these competencies, when practiced well, enhance relationships. In my own experience as a leader –in a corporate context, a volunteer context or in personal and family relationships – the ability to manage situations involving difficult dialogue and conflict is a critical skill set that every leader needs.
In summary, leaders must be able to demonstrate forgiveness, both to themselves and to others.  They must be able to look for good intentions in situations where things went wrong before vilifying the actions of others.  Research has clearly demonstrated that organizations and individuals benefit from the assessment of their character traits to improve their self-awareness.  This can lead to the integration of good character traits into leadership training in order to build a Personal Leadership Effectiveness Culture that reinforces a strong CQ (Character Quotient) within the organizational culture.
As always, I welcome your feedback. You can connect with me via email or telephone or leave a comment right here on the site.
Until next time,
Dave
David Town, CHRL, is a facilitator and coach of leadership and management principles that enable individuals and organizations to build greater leadership competency, resulting in higher performance and higher employee engagement. David has a particular focus on effectively managing conversations involving confrontation or conflict. As well, he provides insights and assessment strategies for integrating character competencies into leadership skills resulting in increased trust and reduced risk for leaders. David is President of Your Leadership Matters Inc.
http://www.yourleadershipmatters.ca/wp-content/uploads/2017/08/your-leadership-matters-logo-300x172.png
0
0
David Town
http://www.yourleadershipmatters.ca/wp-content/uploads/2017/08/your-leadership-matters-logo-300x172.png
David Town
2016-02-01 15:27:28
2016-02-16 10:01:15
Leadership & Character – Forgiveness