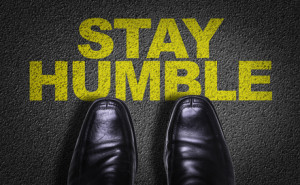 Leaders who act with character have a variety of virtues and values that contribute to their ability to make positive character-based decisions.  One of the key attributes of character-based leadership, which seems to get less attention, is humility.  Humility is generally defined as "a modest view of one's own importance". Individuals who demonstrate humility focus more on others than they do on themselves which is why humility can be such a great character-based leadership attribute.
Leaders who are humble are likely willing to admit their own mistakes because they are not focused on their own self-importance. They are also more likely to learn from others because their ego doesn't block useful information that may be different from the way the leader is currently thinking. As a result, decisions are made with better data which leads to better decisions. Also, the leader is less prone to pushing a decision with a self-serving agenda. Fred Kiel in his book "Return on Character" describes extensive research that clearly demonstrates that organizations led by self-serving leaders on average earn lower returns than organizations led by strong character-based leaders.
"Level 5 Leadership":
In his book "Good to Great", Jim Collins outlines a concept he describes as "Level 5 Leadership". A Level 5 Leader is a person who demonstrates a combination of personal humility and professional will. Organizations run by Level 5 Leaders achieved outstanding results over long periods of time. Collins indicates that only a small percentage of organizations have leaders that could be described as Level 5 Leaders. One of the reasons for this is the general lack of humility possessed by individuals who have risen to the position of CEO. It is interesting to note that we should not confuse humility with a lack of will. Level 5 Leaders possess a very strong will for the collective success of the team versus their own personal success. This is why Level 5 Leadership has been equated with the concept of Servant Leadership.
The best leaders are humble leaders:
Harvard Business Review published an article in May 2014 entitled "The Best Leaders are Humble Leaders". Their research provided many powerful insights into the advantages of demonstrating humility as a leader.
For example, humble leaders are:
Willing to admit mistakes which makes them appear more human, leading to stronger connections with others
Able to discuss issues versus debate them with an agenda of winning the debate; are able to admit a degree of uncertainty during ambiguity that leads to others providing solution options
More able to let others lead because they're not looking for the limelight
Humility leads to empathetic thinking:
Anyone with a modest view of their own importance finds it easier to understand the needs and circumstances of others because they are not overly focused on themselves. Empathy is one of the key abilities in emotional intelligence and is commonly accepted as a critical requirement to be successful as a leader.
A high level of humility is important to achieving a high CQ (Character Quotient) and results in leadership driven by good character values. Leadership assessment and leadership training must take into consideration the integration of positive character traits in order to help develop a Personal Leadership Effectiveness Culture that reinforces a strong CQ (Character Quotient) within the organizational culture.
As always, I welcome your feedback. You can connect with me via email or telephone or leave a comment right here on the site.
Until next time,
Dave
David Town, CHRL, is a facilitator and coach of leadership and management principles that enable individuals and organizations to build greater leadership competency, resulting in higher performance and higher employee engagement. David has a particular focus on effectively managing conversations involving confrontation or conflict. As well, he provides insights and assessment strategies for integrating character competencies into leadership skills resulting in increased trust and reduced risk for leaders. David is President of Your Leadership Matters Inc.
http://www.yourleadershipmatters.ca/wp-content/uploads/2017/08/your-leadership-matters-logo-300x172.png
0
0
David Town
http://www.yourleadershipmatters.ca/wp-content/uploads/2017/08/your-leadership-matters-logo-300x172.png
David Town
2016-04-06 09:55:02
2016-05-03 09:30:02
Leadership & Character – Humility