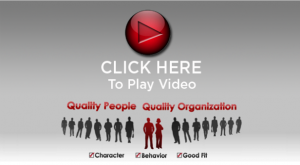 Personal Leadership Effectiveness™ is based on the principle that building character competencies will lead to achievement of greater results in individual performance as well as organizational performance on key metrics.  Your Leadership Matters Inc. believes that building character-driven leadership and a character-driven culture will enable employees to successfully deliver the corporate strategy, particularly a strategy involving differentiation within the marketplace.
You can access the link below to learn more about Personal Leadership Effectiveness™.
The Importance of Personal Leadership Effectiveness™
Your Leadership Matters Inc. is a certified provider of the unique MERIT Profile System™ that provides an integrated suite of tools to help organizations:
Align

the "compatibility" of people to the organization's culture

Identify

the person that is the best "fit" when hiring a specific position

Assess

character competencies and behavioral traits

"Will Do"… based on Character / Behavior data

versus

only evaluating
"Can Do"… possessing the job-related skills / competencies

Uncover

the strengths / weaknesses of "personal leadership" competencies

Execute

a sustainable evaluation process to review performance / productivity
If you are interested in determining how you can save money and improve performance by increasing the predictability of success in your hiring, development and promotion decisions, you should begin by reviewing the research and services overviews found in the links below.
The Whitepaper on "Maximizing Workforce Contribution" provides research and insights on the value of character in the culture of high performance organizations. The "Executive Summary" version provides a summary view and is tailored to the reader who is interested in the concept and would like to get the highlight information.
Maximizing Workforce Contribution™- Executive Summary
The full Whitepaper provides more a detail understanding of the research and is tailored to the reader who wants to learn how to build a character-based culture.
Maximizing Workforce Contribution – Whitepaper
Personal Leadership Effectiveness™ (PLE) is an essential part of achieving performance, productivity, team efficiency and bottom-line results through a character-driven culture. The link below provides access to the preview packages that enable you to explore the value of the MERIT Integrated Solutions™ system.
Personal Leadership Effectiveness Preview Packages
Organizations can undertake a MERIT Team Dynamics (MTD) analysis – a cost-effective process to assess how well an individual aligns within the group as well as how the group dynamics impacts the productivity of the team.
If an organization is unsure of their current level of effectiveness in Talent Management, they can undertake a Human Capital Intelligence Survey™. This involves administering a survey within the organization to understand just where the organization stands with respect to:
Human Capital Challenges
Organizational Culture
Talent Acquisition
Employee Development
Retention Strategy
The information in the Human Capital Intelligence Report (HCIR) leads to a targeted strategy to increase the effectiveness of the organization's approach to Talent Management. The links below provide insights into the HCIR
Human Capital Intelligence Report Survey Example
Human Capital Intelligence Report Brochure